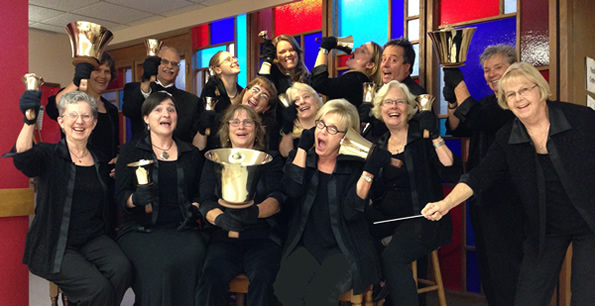 Timberline strives to broaden the appreciation of the art of handbell ringing in the Denver Metro area by providing excellent concerts and education for diverse audiences. The volunteer ringers are from the Denver Metro area and come from a variety of backgrounds. Having a passion for ringing handbells, they play a spectrum of music including pop, musicals, and classical music for: workshops, concerts, weddings, and special events. They ring 5 octaves of Whitechapel handbells, 5 octaves of Malmark handchimes, and 3 octaves of Petit and Fritsen handbells.
Timberine is a community group that began in 2003, whose funds are raised solely by community donations and ringer contributions. Thanks also to Zeta Zeta Chapter of Delta Omicron International Music Fraternity for their support. national website
Auditions
Auditions are held each semester and upon request. Ringer skills include: playing level 3-5 music, rhythm, and various handbell techniques. Our weekly rehearsals are educational, fun, and enjoyable, and ringers are encouraged to prepare on their own during the week.  Rehearsals are open to the public. We also have a need for substitutes to fill-in during rehearsals or performances for individuals who are ill or traveling. Please contact us if you are interested in either an audition or being a substitute! audition@timberlineringers.org
---
About the Ringers
Caroline, Conductor and Artistic Director. Caroline started ringing bells in 1982 with Everitt Hilty at CU, and directing handbell choirs since 1987. Caroline is a member of the AGEHR, and has received the National AGEHR Level I Conductors recognition. Caroline retired from the Jefferson County Public Schools after serving 33 years as a music teacher in grades 1-12. She and Edie Walker established Rocky Mountain Ringers and currently rings with them. She also directs the Jubilation Ringers of Wheat Ridge United Methodist Church. 
Bob, a manager of computer network support for a major healthcare company, began his musical career playing trumpet in the 4th grade.  He has performed in high school marching, jazz and concerts bands, community bands, and drum & bugle corps in his home state of Pennsylvania.  Upon moving to Colorado, Bob has been a troop bugler for his son's Boy Scout troop and played trumpet in music liturgies at his church.  He is currently studying bass guitar and began ringing bells a year ago after being a "roadie" with Timberline.  Bob is married to Theresa who has been ringing for several years.
Choc first got involved with handbells being a 'roadie', you know, the person who helps 'schlep' all the equipment!  Then she figured "if I was toting, I should be ringing."  Twenty plus years later she's still loving the bells.  We can make some beautiful music!
Judy's musical background began several decades ago playing piano and French Horn.  She played handbells for 5 years with a church choir while living in Saudi Arabia. She's been playing with Timberline for 4 years and greatly enjoy playing a broad spectrum of music to diverse audiences. Retired from a career in Physical Therapy, she's always believed in the importance of physical movement, fine eye-hand motor coordination, and brain gymnastics. Handbells has been an incredibly fun way to achieve all three!
Mary, a retired Jefferson County teacher, currently teaches private piano and flute. She has a bachelor's degree in music from CSU and a master's in education from UNC.  Professional groups include Delta Omicron National Music Fraternity, JCRSEA, and JCEA-R.  She began ringing bells in January of 2009 when she joined Timberline Handbell Ensemble.
Theresa, currently an administrative assistant at All Souls Catholic School has been ringing handbells for 11 years. She was involved in music at an early age, playing clarinet and also playing piano in later years. Her handbell career began at all Souls Catholic church where she rang handbells for 8 years and later joined the Mountain Ringers Handbell Ensemble located in Evergreen, CO. While with the Mountain Ringers, she learned advanced ringing techniques and was a featured duet performer in 2010. Additionally, Theresa attended an AGHER handbell workshop in Aurora in 2006 and performed in the Southern Colorado Handbell Festival in 2008 and 2009. Today, she enjoys the fellowship and camaraderie of Timberline.
And other great ringers who prefer not to write their bio sketches.